The new DACHSER magazine is here!
The economy, logistics, and people all over the world—no matter where you look, we're all still trying to find our way through very uncertain times. We have yet to tame the coronavirus, as the massive outbreak in the international trade hub of Hong Kong recently made clear. Meanwhile, the world is staring with disbelief at what's happening in the heart of Europe. The terrible war in Ukraine is causing huge numbers of people to flee their homes.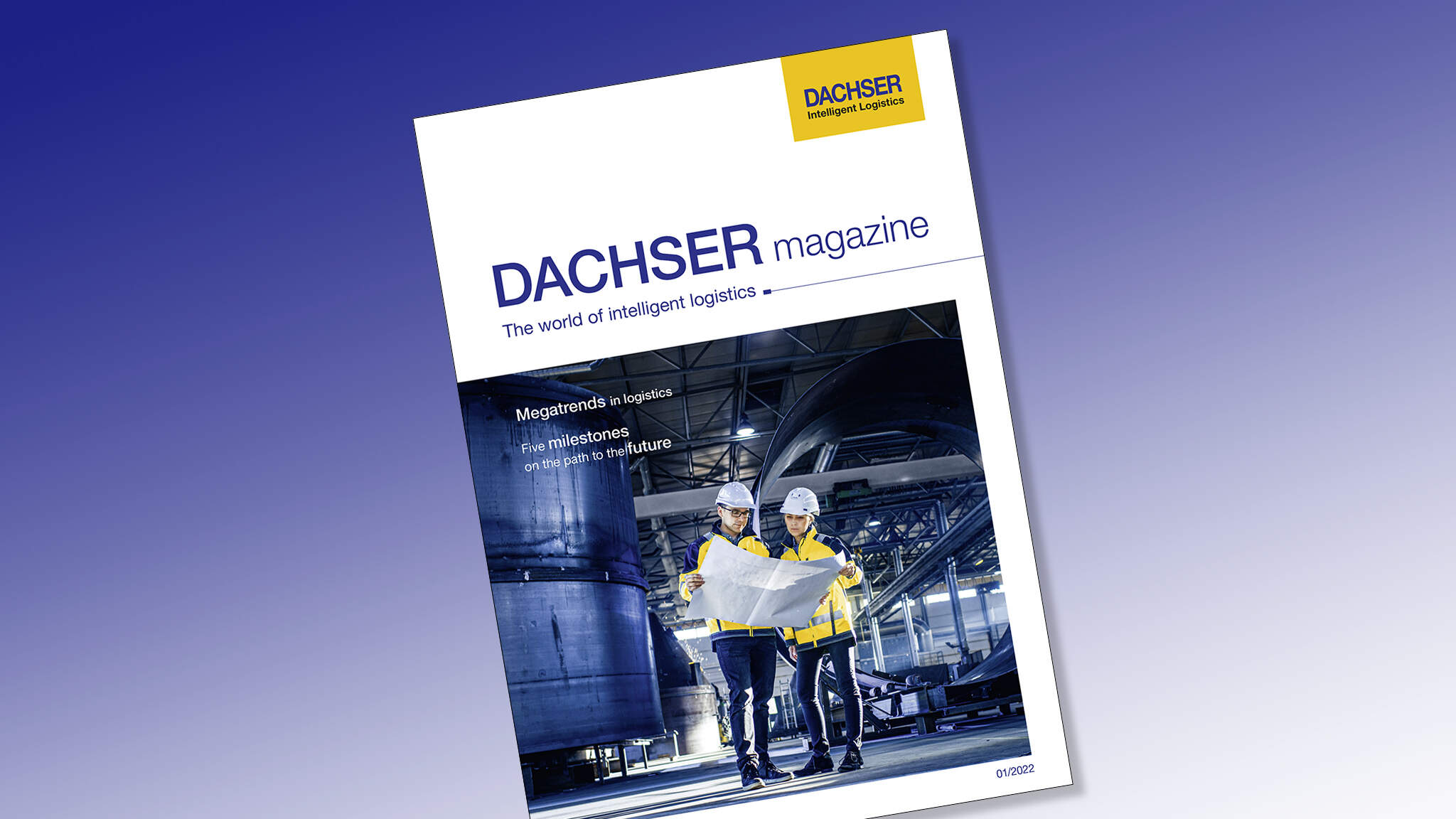 These developments bring with them profound misery and uncertainty, which is also having a colossal effect on global supply chains. Forecasting the future, or even just the next few weeks, is harder than ever, and goods flows still face an abundance of organizational challenges. But just as numerous are the creative solutions that are being found to cope with the myriad of problems—which is something that DACHSER is particularly good at.
DACHSER is also committed to addressing and shaping the major lines of development in logistics. So in the latest issue of the DACHSER magazine, we're taking a look at the big picture. Using five tangible topics, our cover story describes the milestones that lie on the long path ahead for logistics and how we will reach them. It's crystal clear that while sustainability, digitalization, reliability, and agility are fundamental watchwords, it is people who will play the crucial role. Our employees are and will always be the linchpin of what we do—since logistics is a people business. To read more, turn to page 6.
Alexander Tonn, Chief Operations Officer Road Logistics, also emphasizes the importance of having a qualified and motivated team. Turn to page 20 to read the interview in which he explains the challenges currently facing logistics, including the worsening shortage of drivers, as well as taking a look back at his career at DACHSER so far. Read the career profile starting on page 24 to find out how to make a success of attracting and keeping the next generation. We present a young colleague who has never let the fact that he was born with limited mobility stand in the way of putting his plans into action.
You'll find these and many other stories in this issue, which incidentally has been given a fresh new look. We hope you enjoy reading it! Pick up your personal copy at your branch office, or download the PDF here. We hope that you enjoy reading the new issue of DACHSER magazine.
You can also browse through previous issues of the DACHSER magazine.